Almost every lady enjoys admiring herself in front of the vanity table mirror. The dressing table is one of those objects where we throw a lot of useless items that we don't need, but we nonetheless keep them there. We'll go through how to organize your vanity table in a unique way in this article.
For generations, a well-designed vanity table has been an essential part of exquisite bedrooms. Picking up a table and chair that are both comfortable and practical for the space you're designing is the first step in reimagining a dull dressing area in your own house. After that, you may work on improving your setting by adding flattering lighting and appealing storage options. Antiques, jewelry, and classical art may add the finishing touches to the boudoir, making it one of the most visually appealing areas of your home.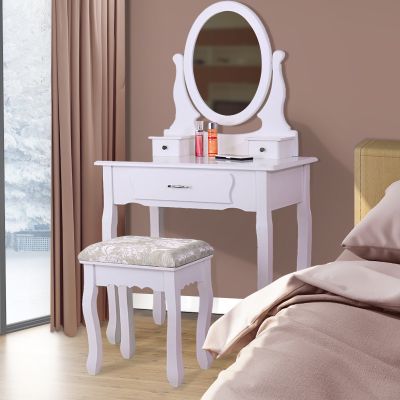 Make use of cosmetic holders of your vanity table
If you already have cosmetic holders, it's fine; if you don't, you should get one. The decorative holders are ideal for holding lipstick, kajal pencils, nail polish, and other cosmetics. These insignificant details will not be muddled up. You can keep them apart if you want. Make individual bags or holders for each type of makeup. It will give your vanity table a distinctive appearance.
To keep your cosmetics organized, use an organizer. These useful tools have various-sized sections that make it simple to store your powders, pencils, creams, and brushes in a single container while keeping them neatly divided. To simplify your daily ritual, arrange the things in your organizer by tone or put similar goods together.
Only put anything in front of the dressing table that is easily accessible
You may have a variety of accessories, but you do not use all of them at the same time. So only keep the stuff you need on the top of the vanity table. Keep a moisturizer, one or two lipsticks, one eye pencil, compact powder, perfume, and so on in your bag. As a result, you can use these products on a daily basis. Keep the rest of your makeup items in the drawer.
Don't try to hide your jewelry
You will, of course, have a wide variety of jewelry. If you have them, don't hide them. It should be shown so that everyone can see it. Please keep your jewelry in transparent boxes. Keep your necklaces in one box and your earrings in another. Continue in this manner. You can keep an eye on your jewelry, and everybody who comes to your house can look at it as well.
Invest in a set of stylish holders to showcase your bracelet, necklace, and ring collection. This will not only save them from being misplaced in a drawer, but it will also keep them together for comparison when choosing a piece to go with your evening dress.
Choose holders and other displays that complement the look you've chosen for your dressing room. Minimalistic containers in vibrant colors and abstract designs, for example, will appear to rise from a sleek, modern desk, whilst a hand-carved wooden rack will go perfectly on a rustic vanity table. Even if you only wear it sometimes, jewelry can provide a sparkling ornamental touch to any outfit.
Maintain a simple mirror on your vanity table
The main object on the vanity table, as we all know, is a mirror. Keep a large mirror nearby so you can see the entire room. The mirror should be tall enough for you to see your full body in it. For example, if you were wearing a stunning gown and stood in front of the mirror but could only see your face and neck, how annoying would that be? This will not be a problem because of the tall mirror. So, add a basic and tall mirror to your dressing table to make it more beautiful.
If your vanity table will primarily serve as a decorative piece, consider a variety of types to locate one that meets your aesthetic preferences. To create a busier look, replace a huge central mirror with multiple smaller ones, or install an ornate folding mirror that allows you to view yourself from various angles.
Rather than relying on a single light off to the side, place one at either end of your vanity and turn them on simultaneously when applying makeup. Twin light sources give lighting from both sides, preventing uneven eye shadow or the application of the wrong foundation colour.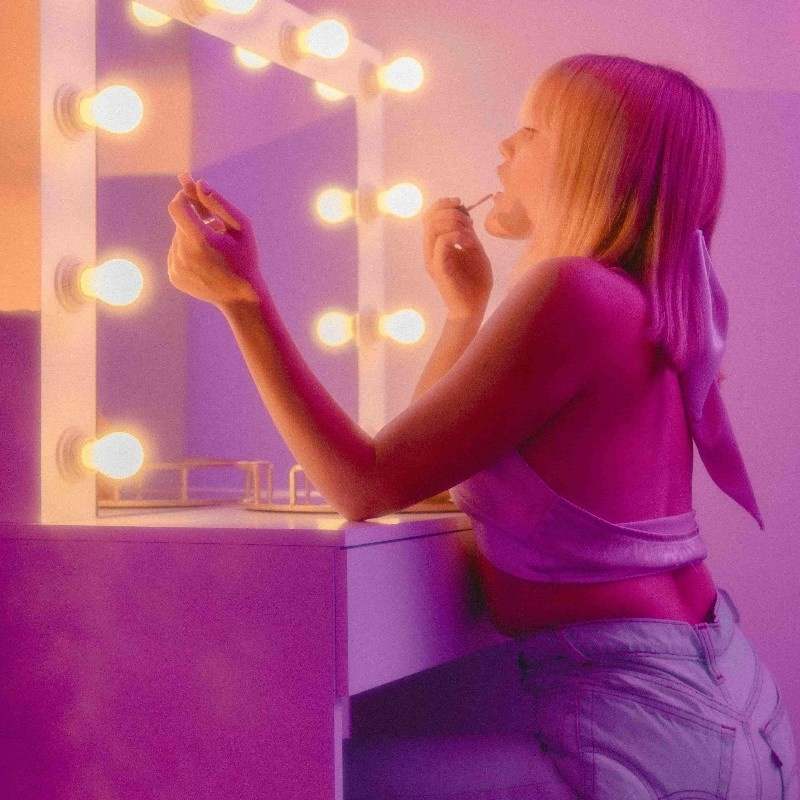 Adding personality and style to your makeup table
Your vanity table is more than just a piece of furniture; it's a part of your bedroom. Look into several design styles to see which one will work best in your living room. Then you can choose your secondary accessories based on your preferred style. Focusing on your vision and avoiding inconsistencies can be achieved by sticking to a particular set of traits.
Mix and match the items on your dressing table to create a unique look. It will pique your visitor's interest. For example, at the top of the vanity table, you can keep all of your products in tiny quantities. It will have a nice appearance. It would also assist you in locating all of your required products at the same time. Lipsticks, eye pencils, fragrances, nail polishes, and other cosmetics can be kept. You can also include some high-end items.
Place a couple of framed photographs of your loved ones along the vanity table's back edge so you may look at them while getting ready. Because your dressing table is one of the bedroom's key center points, it's a fantastic location to flaunt your partner, children, or pets. Plants may add a splash of color to your tabletop while also providing a pleasing natural contrast to all of the man-made items. A bouquet of festive succulents or a spray of fresh daylilies could be just the thing to bring the whole thing together.
Conclusion
The vanity table is the most important piece of furniture in our bedroom. You should take care of it because it enhances your appearance. If you look after your dressing tables, they will enhance the elegance of your bedroom. Follow the steps outlined in the article. If you try to follow them, you will reap the benefits.
You might be interested in:
The Best Nightstand Set of 2 Shopping Guide For Your Bedroom In 2022
The Best Tips To Repair Your Wooden Vanity Table Finish