Near the bed, a nightstand is a small cabinet with drawers, shelves, and a door. The nightstand set of 2 is used to store small items such as magazines, books, a phone, a light, a tablet, framed photos, a glass, a baby monitor, and an alarm clock. You can keep bed linens, cosmetics, and clothes in the cabinet. This type of furniture serves both a utilitarian and an aesthetic purpose.
A small pedestal, unlike other storage furniture, allows you to save room while keeping everything at arm's length. This allows for quick access to the requested item. Finally, nightstands complete the aesthetic of the bedroom.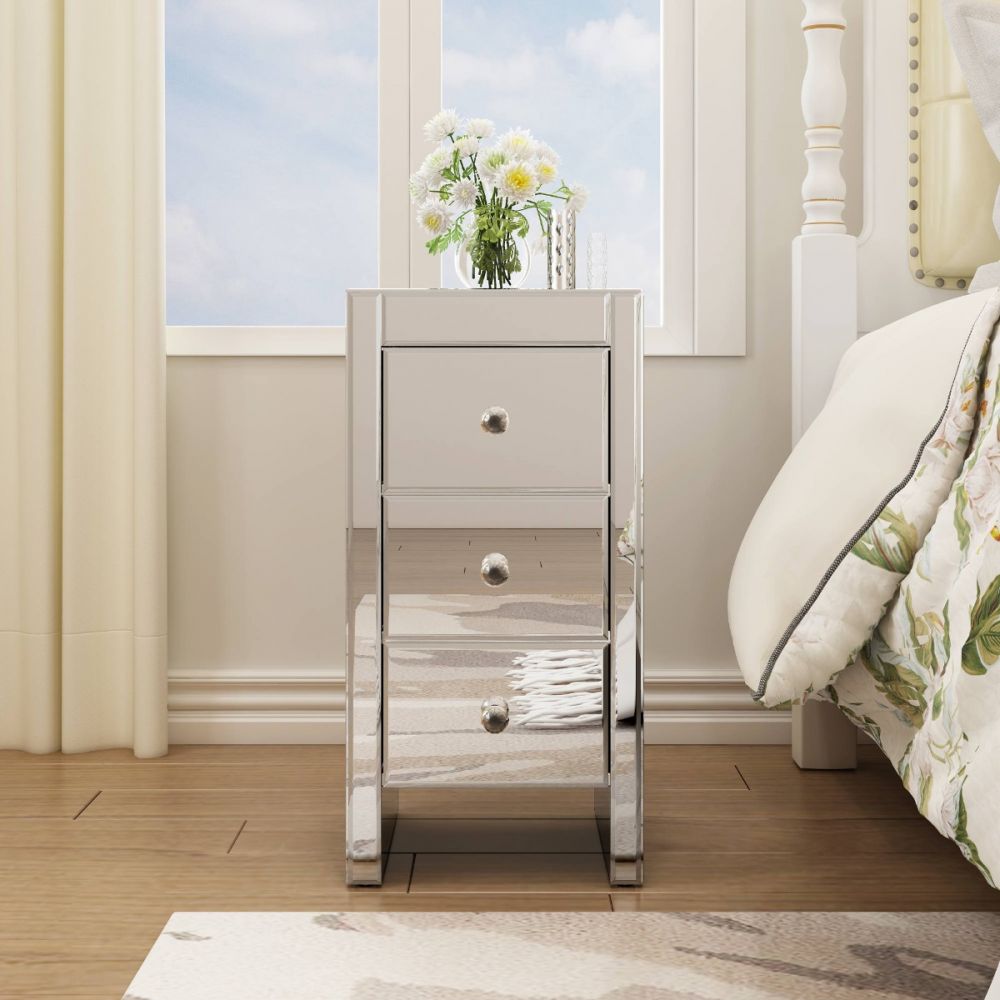 Measure the nightstand space you need first
Take action as soon as you've decided to redecorate your bedroom! Begin by measuring the length and width of the space you want to renovate to determine the appropriate nightstand size. You must know the greatest size nightstand you may purchase in order to make an informed decision that will not leave you with any regrets!
Take the third measurement after you've finished this. You'll need to know the bed's height. It's crucial that the table is at least the same height as the bed, if not a few inches lower. However, a nightstand that is higher than the bed is not uncommon. As a result, we recommend purchasing a nightstand set of 2 that is the same height as the bed or slightly shorter.
Material of nightstand set of 2
Wood is an environmentally beneficial, long-lasting, and attractive material, but it is also costly. Drawings and carvings are frequently used to embellish such furniture. Wooden models are ideal for those who suffer from asthma or allergies. A solid wood nightstand set of 2 will last for decades, and this should be considered while updating your bedroom furniture.
Nightstands are typically made of mahogany, oak, birch, pine, or beech. Hard and sturdy rocks, such as oak or beech, will cost more than soft pine in this situation.
Chipboard nightstands are not recommended for the bedroom for two reasons: first, a person spends up to a third of their day in this area, and second, it is not always possible to ventilate the bedroom (for example, in winter). If someone in the family suffers from asthma or allergies, this is especially crucial.
It is laminated or covered with veneer to increase the product's performance. Although laminated chipboard is less expensive and more resistant to wear and scratches, veneer flawlessly imitates solid wood and provides the cabinet with a striking appearance.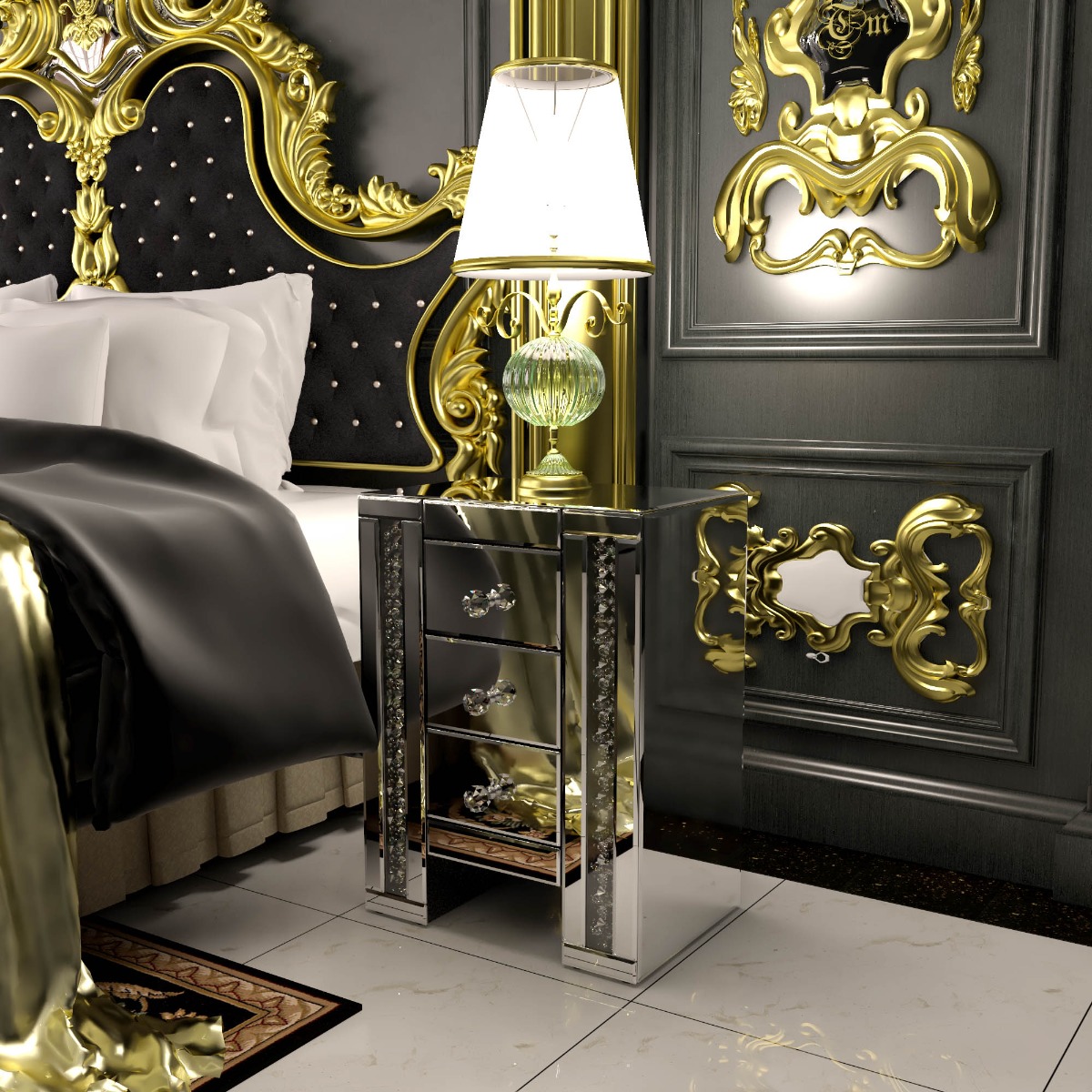 Nightstand size
The size of the curbstone is dictated, first and foremost, by the room's size and purpose. If your bedroom is small and you simply need a curbstone to hold a book, lamp, or phone, go for a model with 2-3 shelves and a drawer. A larger cabinet with a big number of boxes can be placed in a larger bedroom.
The nightstand's size is also impacted by its position and the room's interior characteristics. Two little thumbs on the bed's sides may appear more useful than one huge thumb in some instances. On the other hand, one enormous model can properly fit into the bedroom's interior.
The nightstand set of 2 models' height should correspond to the height of the bed: too high will block the view in the room, while too low will be inconvenient to operate because getting objects will be difficult.
Storage option for your nightstand set of 2
Shelves and drawers can be used to store a variety of items. Books, a tablet, and models with open shelves will suffice for little items. It is preferable to choose a model with drawers or shelves that closes the door if it is used to keep clothes or garments. Occasionally, such drawers have a lock.
A swivel/retractable table expands the useable space of the nightstand while also improving the user's comfort (for example, it is more convenient to get items while in bed).
Legs can be adjustable or not. On an uneven floor, the nightstand's adjustable legs provide stability. Wheels transform the fixed nightstand set of 2 into a mobile one, making it much easier to move. This option is useful for washing the floor on a regular basis or changing the situation in the bedroom.
Other factors to consider when choosing the nightstand set of 2
First and foremost, you should measure the area where the nightstand set of 2 will be placed. It is much easier to select a suitable model if you have the parameters. The health of the bedside table should be taken into consideration. Safe materials such as wood and hypoallergenic plastic are used to create high-quality furniture.
Pay attention to the quality of the legs or wheels of the nightstand. Examine the fasteners' reliability if the model is a pendant. Check for scratches, chips, deformations, and other flaws in the cabinet, as well as the quality of the connections and retractable mechanisms.
To tell the difference between natural wood and chipboard covered in veneer, look at the corners: the chipboard parts are rectangular in shape, with no patterns or roundness. It is best to choose nightstands that do not have sharp corners to decrease the danger of harm. This is especially important if you have little children.
Conclusion
Finally, if you enjoy taking chances while still generating unique looks, you might want to explore mixing two tables. To generate a unique appearance, look for some that have similar styles but different designs. This is becoming a more popular alternative. It allows you to give the room your particular touch and make it really unique. Even if the nightstand has different styles, you may paint them all the same color and be done with it.