First and foremost, you'll need to get a vanity table. There are so many various sorts – from shabby chic and antique to contemporary, mid-century, and glamorous – that you should take inspiration from the rest of your house to figure out what style you like and what size works best for you. Curvy shapes have a more feminine feel to them, although darker rustic styles can be a nice contrast. Add lamps around a square mirror to make a movie star dressing table, or accessorize with secondhand and charity shop treasures to make a fashionable antique dressing table.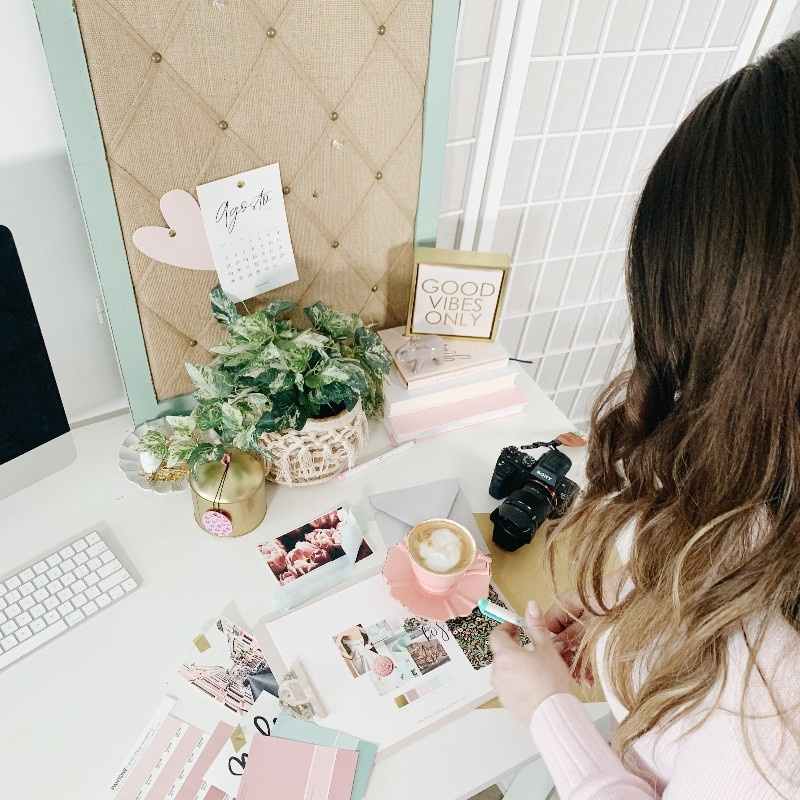 What is the best location for a vanity table?
A dressing table belongs in your bedroom, and when determining where to put it, think about how you'll use it. You'll want as much natural light as possible in this space, so consider placing it in front of a window to maximize the amount of light available for doing make-up. If that isn't an option, position it across from a window and use a mirror to bounce the light back onto your face.
What should a dressing table contain?
Basically, everything you'll use to pamper yourself, any accessories you like to add as finishing touches to an outfit, and your most-used make-up items if you wear make-up. You'll surely need a mirror and possibly a hairbrush, but a dressing table should be a place for you to enjoy, so it's entirely up to you!
Decluttering a vanity table
It's tempting to stack everything on top of your dressing table and use it as a trash can but avoid the urge. Keep the top of your vanity somewhat uncluttered to allow you to apply make-up and pampering goods.
You don't want to leave the vanity table completely naked, but there should be some open space. Having a clear method for organizing your accessories is key to decluttering a dressing table. Make sure you have a designated area for everything, and that you choose a method that you'll stick to and that works for you. The simplest method to declutter is to use innovative storage ideas to keep things from becoming cluttered in the first place.
Organizer for make-up tables
Consider storage alternatives for your make-up, lotions, and beauty items on top of your vanity tables. Consider acrylic storage, which allows you to quickly see what's inside each compartment. When you're in a rush, you don't want to waste 10 minutes looking for your favorite lipstick. There are many different types of vanity table organizers available online, so have a look and select one that suits you and your style.
Dressing tables with drawers are available in a variety of styles
For your cosmetics and skincare needs, many dressing tables include built-in drawers. Because dressing tables come in a wide range of forms and storage capacities, it's important to consider what you'll be keeping and how big you'll need the drawers to be. Consider acquiring drawer dividers if you have a lot of make-up. They'll help you keep everything organized.
Seating with storage
This is a great method to store stuff you don't need every day while still keeping them close at hand. Many vanity table seats have concealed chambers that provide useful storage space.
Style your vanity table with the following suggestions
Make sure you have everything you require within easy reach
A mirror, tissues, cotton buds, cotton wool pads, a place to keep brushes, a place to put your current favorites, and so on are on my must-do list. Ensure that your table is in a favorable location with enough of natural light during the day and adequate artificial light in the morning and evening.
A place to keep your current favorites
The majority of my make-up is kept in the drawers of my vanity table, but I usually have favorites that I reach for more frequently than others. Ta'or sent me a brilliant make-up organizing solution that includes a box for larger make-up items and a lid that doubles as a useful spot to put brushes, mascara, and eyeliners, among other things. I like how it's both functional and attractive, which is a quality that's often overlooked when it comes to storage solutions. The Cubi Max Make-up Set in White Melamine, which I have, is available here. I use the set to keep the products I use on a regular basis within easy reach.
Make sure you have a tiny compartment in which to store your jewels
To organize tiny pots and jewelry that I tend to have sitting about, I like to use a tray (or in this case, a marble sample from the architect's boyfriend). It's an excellent solution for those like me who have a habit of leaving small stuff all over the house.
Keep your source of inspiration close by
One of the most personal places in our house, I believe, is my vanity table. I like how it's full of things that remind me of the people I care about. My mother's table, my grandmother's and friends' frames, the Ikea mirror I brought home from my Erasmus in Barcelona,... It's a peaceful setting because it's well-organized and attractive, and I try to keep a few books and periodicals nearby to keep me inspired.
Conclusion
Finally, you'll want to decorate your vanity table with some warm touches. Jewelry boxes and ring storage, perfume bottles on trays, and catch-all bowls for your everyday items can help you create a wonderfully organized environment that can serve as a great focal point in your room. To make your area feel extra special, add a wonderful scented candle and a small bunch of dried flowers.