You buy an outdoor storage shed with the greatest of intentions. After all, you just want to keep your home or garden clean and clutter-free. Perhaps it never occurred to you that you'd need to find a blog post about the greatest shed storage ideas later on. However, as your possessions (whether rubbish, forgotten heirlooms, or tools) accumulate, you will find yourself trampling on random items, stumbling over, banging your head, and unable to find what you need. And we've all experienced how aggravating that can be! And the worse it gets, the less enticing it is to organize your shed.
We're here to help you get started – and to get it done!
We want to provide you a good starting point, but we also want to help you get the most storage out of your shed and keep it neat for good. This page contains all of the shed organizing hacks you need, from advice on shed shelving and shed accessories to tool storage solutions. The majority of the suggestions on our list can also be used as potting shed storage solutions. This post is intended for everyone. So, whether you need to organize your 8x10 shed or 30x18 log cabin, we're here to help you make the most of the storage space you have. So, without further ado, let us get started...
Where to start
Not knowing where to start is a huge impediment to cleaning anything, not just your home or shed. So, before we go into shed shelves and other garden shed storage options, let's go over some fundamentals.
Clear out your storage shed
This is the first step toward a tidy shed, especially if it's so cluttered that you can't see what's within. Fortunately, it's a simple first step. All you have to do is carefully remove everything from the shed and place it on your lawn to go through.
Get rid of anything you don't need
Begin searching among the stuff on the lawn - and be ruthless! This includes getting rid of whatever you don't need and isn't worth anything. Put whatever you don't want (but is valuable) on your favorite auction site or classified section (perhaps at a later date).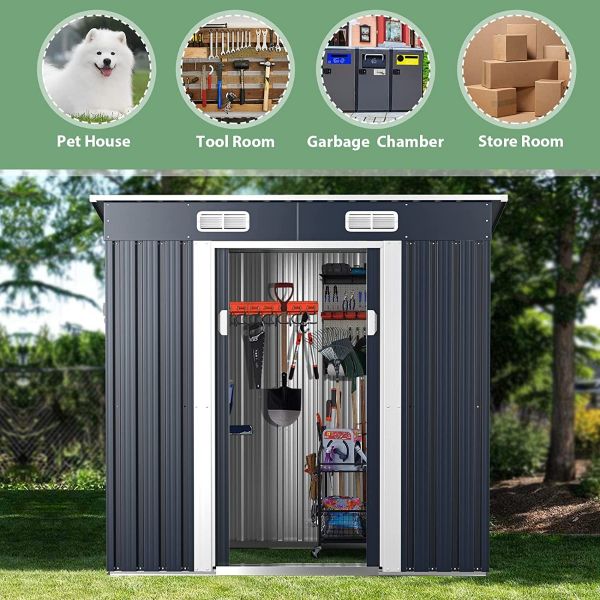 Group similar items together
It's now time to start organizing the goods that made the cut! It is entirely up to you how you organize these goods; some choose to sort by product category, while others sort by function or size.
Plan your shed storage ideas
With all that stuff you had to cope with, you probably had trouble imagining how to organize your shed. But now that the shed is empty, it's time to consider where you'll keep things. Remember to consider the following:
Items you use frequently
Where you'll put tiny items
Tools - safety and accessibility are critical considerations here
The amount of room you have
All of the above are critical factors to consider, especially if you're seeking for small storage shed ideas. It's extremely crucial to consider safety and the stuff you'll need the most. After all, there's no point in storing critical stuff only to discover that you have to move everything else out of the way to get to what you need.