Even if every basic facility may already be included in mostly backyard, such as built pool, lawn ground or big-scale unoccupied space, the fantastic life will be located on how you prepare to decorate your backyard, transform your lifestyle by purchasing some counterpart furniture, and manually install some applicable device as auxiliary to make every activity easier and more attractive.Spend your outdoor afternoon with your soulmate or entertain guest and family on simple gathering. Jaxpety collects several outdoor furniture definitely being ready for backyard changing mission. Follow along and discover the potential favorite ones you may love.
Exciting invitation to friend or family can be sent out for afternoon swimming at backyard, enjoying a free swimming safely in own place with water temperature in control. Despite the mixture water contains plenty of people at swimming pool, Solar Shower will rinse the hidden bacteria which may adhere to your body. And if you immerse in cold water lasting couple of hours, this heated shower from faucet sprinkling hot water helps recover your body temperature back to average level instead of causing indisposed temperature difference. And this solar show with base stands still and allow you and friends to take shower together safely without any concern of knocking it down when you bring some playful fight. Infinite water can be stored and supplied by it, compared with limited capacity of solar camp shower. You can sway your body or have little dance under blear water-drops, this outdoor shower with adjustable height will make you more elegant, attractive and showcase your perfect body shape in pubic with your friends.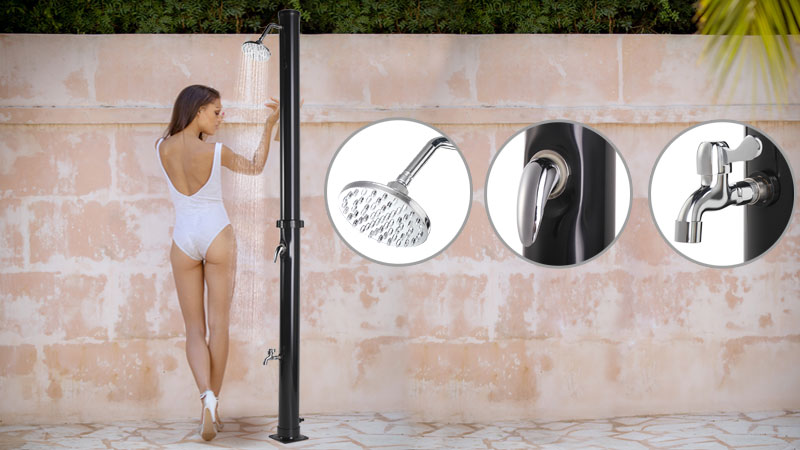 After getting exhausted from hours of swimming, you need some rest and relieve your muscle ache going along with this arc hammock hanging chair, reading a book,chatting with friends or having drinks, all of them will extend life comforts to new level. Never underestimate the comfort is brought by body curved with backrest support, or lay down flat on this 87" padded cushion and your body posture can be changeable on this sufficient space to take naps as you please. Enjoy the breeze cross through occasionally and gentle sunshine falls on your skins with canopy helping alienate some UV ray and save for your time to scribble sunscreen. Embrace your cat or puppy sitting beside you and take some co-occurring swing on chaise lounge chair to spend the most leisure moments of day. Compared with traditional rattan mesh hammock chair presses body between interspace or get hurt, especially when you ware bikini, our swing chair adds more consistent and smooth elements to body touch.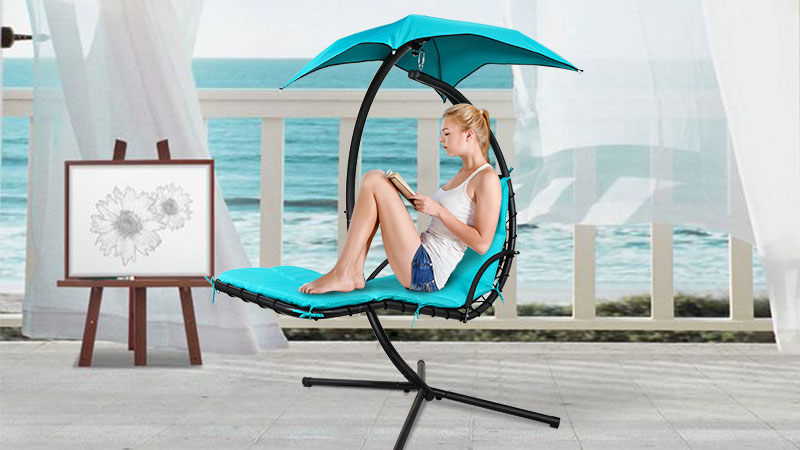 When you come with some ideas to enlarge your life space scale, your outdoor unused place will be your first spot to build up your fortress, then outdoor furniture pickup may belong to part of your brain struggling problem, the material has to be strong enough to suit for specific environments like storm, rain, or it`s exposed seriously under sun. And new design of outdoor twin umbrella totally breaks the weather limit to protect your outdoor furniture, sofa, chair and table, provide more options to choose. For sake of durability,built of cast aluminum,this Rectangular Patio Umbrella with 12 firm steel crib hold up your protective sky outdoor and also ensure great ventilation. Entertain and host some playful theme outdoor, or have outdoor dinning, you won`t like to accept any attack by dust or unidentified object to destroy whole delightful mood. And this umbrella as sunshade will supply healthier sight to surrounding amazing sunset landscape ever, and its adjustable height function won`t block off any beauty you may value.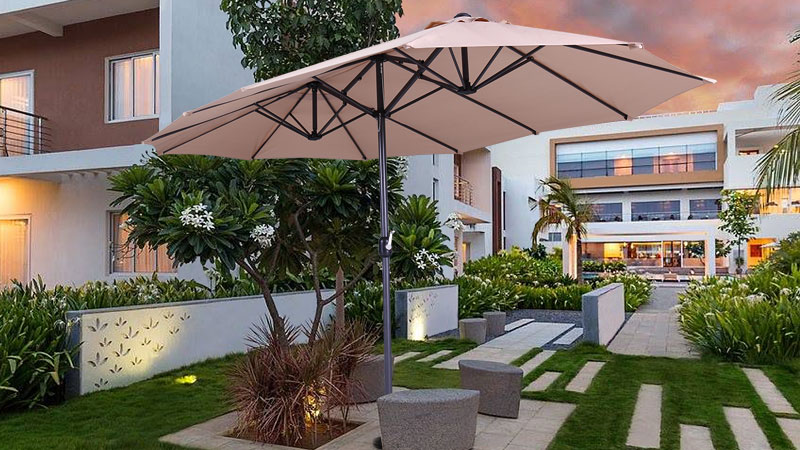 The popular belief of hosting an exciting activity for family or guest will be barbecue party, and you will be obsessed with this Barbecue Electric Top Grill bring much convenience. Its nonstick material of additional Teflon separates the food and Griddle easily, and cut off any elasticity between them. It`s more like magic that supply food to your family with completed shape, because we all know the great looking of meal will motivate people more appetite. And you never worry about burning to scorched meat, ensuring everyone enjoy fresh and health food endlessly. Teppanyaki Nonstick Table is constructed with two handle bars to lift up and move anywhere, with insulated rubber to protect user hands. Flame can`t become strong to be fire, every caring grill needs to be defend flame hurting people, and seal every parts to avoid oil leaking to flame and cause fire. This chosen grill will be valuable equipment to host barbecue at any festival.
Holding a big party and having a lot of invited friends, or you make bold mind of conducting a fantastic outdoor wedding, this stackable chair will be very helpful with simple design but countless practical possibility. Ergonomically design supports body up with appropriate spine reclined angle. And you will discover much benefits by its lightweight features to array and decorate any site like cement floor or grass ground. And on behalf of durable speaking, this chair will endure any weather strike, thanks to its reinforced steel and padded seat wrapped by plastic. One chair is not enough to fulfill whole space, our combination combo set of Folding Board Chair will accomplish unique outdoor-scape for wedding ceremonies,banquet halls,catering, conventions.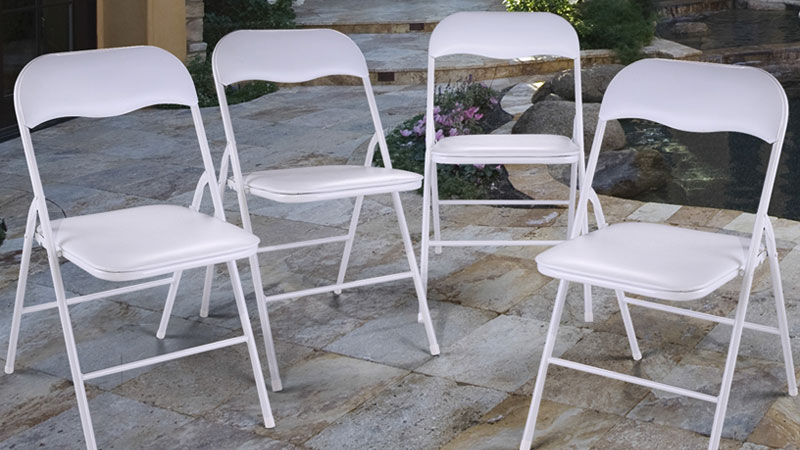 We never stop to chase colorful life indoor and outdoor, we love to merge into fresh natural air, but we can`t just breathe them, so every new trial of different outdoor activity is attempted by people who want to enlarge life circle, like swimming, having dinner outdoor, barbecue at backyard, drinking coffee, or do sports. And more importantly, people likes to be one part of social connection community with other people, associated with each other more closely. And one of reason that more people will be attracted to your activity is because you`re equipped with sound and completed furniture and appliance to enhance their enthusiasm. Catching up with friends and family will be your loved motion ever outdoor with more potential to be discovered.