7 simple shed storage ideas to get organised
Now that we've shown you how and where to begin, we'll show you a list of shed accessories that you can utilize. Here are seven of the best shed storage solutions to help you organize (and keep) your shed organized:
Use shed shelving!
When it comes to organizing your garden structure, shed shelving is a great place to start. If you don't already have shed shelves, we recommend purchasing some before proceeding.
Tip for shed storage: Look for heavy-duty shed shelves that can take a lot of weight if you want to keep a lot in them. Also, search for multi-level shed shelves, which will allow you to make the most of the available wall space. New shelves can be found in places like IKEA in the UK (and many other countries), whose website can be a wonderful source of shed storage ideas!
Organize the shelves in your shed
As previously stated, it is a good idea to consider how you will store the products you use the most. Keep frequently used objects at easy reach, where they can be seen and grabbed. (Obviously, big or bulky items, such as lawnmowers, should be placed on the floor.) Anything you only use rarely should go on the top shelves.
Upcycle!
We suggested getting new shed shelves, but you don't have to! You might repurpose some old shelves if you have any laying around from the kitchen or one (or more) of the other rooms in your house. Whether you have wall-mounted or free-standing shelves, they can be very beneficial in this situation. Old cabinets that have seen better days for household use can look fantastic in your shed. Most significantly, they have apparent practical applications. You could even create a cupboard out of old doors if you get imaginative - there are plenty of those lying around!
Hang 'em high (and low)!
It's critical to make the most of the space you have, especially if you're planning small shed storage. Make the most of your available space. Instead of supporting tools that don't fit at head height, seek for other places to employ shed storage hooks, pegboards, and racks - both lower and higher up. You can even use the ceiling if necessary! Racking out your shed is a great way to make the most of your available space (as in the photo above). That gets us neatly (excuse the pun!) to the following two shed storage alternatives...
Use the door(s) and the outside walls
The area on the shed doors is ideal for storing stuff. If you have a good wooden shed door, you can install hooks in the top of the Z-frame and hang trowels, shears, and whatever else you want on the inside! If you want to get creative with garden shelves, consider using other portions of the shed, such as the space under the eaves. Yes, you read that correctly: you don't have to confine wall-mounted storage to the indoors. There's no reason why you can't place racks on the outer walls if the products aren't fragile or prone to cold or heat - especially if you're short on room!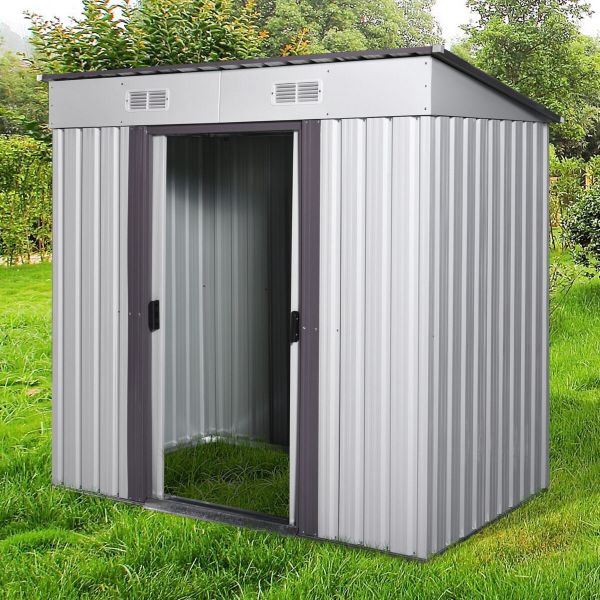 Get magnetic!
You'll no doubt want to discover the best ways to store garden tools in a shed to maximize storage space. Let's face it: they can be awkward to store in drawers and shelves. As an addition to shed storage option #3 on our list, a magnetic tool holder is perfect for holding metal equipment in place, such as saws, files, screwdrivers, chisels, and so on. These are available at Screwfix in the UK, Home Depot in the US, and Bunnings in Australia, though there are alternatives in all three of these countries! You can also create your own magnetic tool holder; the Instructables Workshop website has a great tutorial.
Shed storage tip: Hold your paintbrushes (those with metal handles!) in a wall-mounted magnetic tool holder. It can be aggravating to have to find the brush you need in a drawer full of random items - but a magnetic rack can help you discover your brushes quickly and effortlessly.
Sweat the (really) small stuff
When most people think of shed storage, they probably think of large items like lawnmowers, rakes, and other heavy tools. But, while deciding how to organize your shed, don't forget about the small stuff - nails, bolts, washers, screws, and so on. It's useful to segregate various items when dealing with small items like this. If you have any doubts about the importance of organizing little goods, consider trying to find a small washer amid a sea of nuts and bolts when you're short on time. You'll realize how crucial it is to organize all these odds and ends. You might use plastic cups or drawers with distinct compartments to aid you with this. A typesetter's drawer (or any type of barn storage drawer with divisions) would be great for repurposing! Even old soup cans would suffice (just be sure to watch out for potentially sharp edges).
Light it up!
It's pointless to clean your shed if you can't see anything when you're inside. If you have a shed with large windows and a good supply of natural light, you'll be able to see inside well during the day. If you have a windowless shed or want to spend time in your outbuilding at night, consider purchasing a battery-powered light - they're inexpensive and really useful. Tiger sells solar lights, which are also highly cost effective and will save you money.
What should you not store in a shed?
Hopefully, this list of shed storage solutions has helped you organize and keep your shed tidy. But, before we begin, there are a few items that you should never store in your shed. Even in the thick of summer, it appears that the weather in the United Kingdom is rarely especially hot. However, temperatures fluctuate, which may have an impact on the objects in an outbuilding that lacks insulation or ventilation. With that in mind, here's a list of things you should avoid storing in there:
Paint and glue – commonly found in sheds, but temperature changes can render them useless
Canned food – food is perishable and will go off pretty quickly in an outbuilding
Photographs and paperwork – should be kept away from damp
Electronics – feature sensitive components
Clothing and bedding – could end up smelling musty
Wine – inconsistent temperatures can ruin your favourite tipple!
Musical instruments – temperature changes can corrode metal