Because the bedroom is a place where you rest, relax and rejuvenate, it's critical that it be uniquely "you." Nightstands are a versatile piece that can be customized with your favorite photo and the latest book club books, as well as wonderful accessories. You'll view these shortly before bed and right after you wake up, so think about how you want to feel in those moments and the components that will help you get there.
When it comes to decorating your bedroom, the nightstand set of 2 is a great place to express yourself and create a focus point. A bedroom nightstand, on the other hand, is much more than a decorative piece. Because your nightstand is also a site where design and practicality collide, you'll want to pick one that complements your bedroom's decor while still providing lots of storage and space.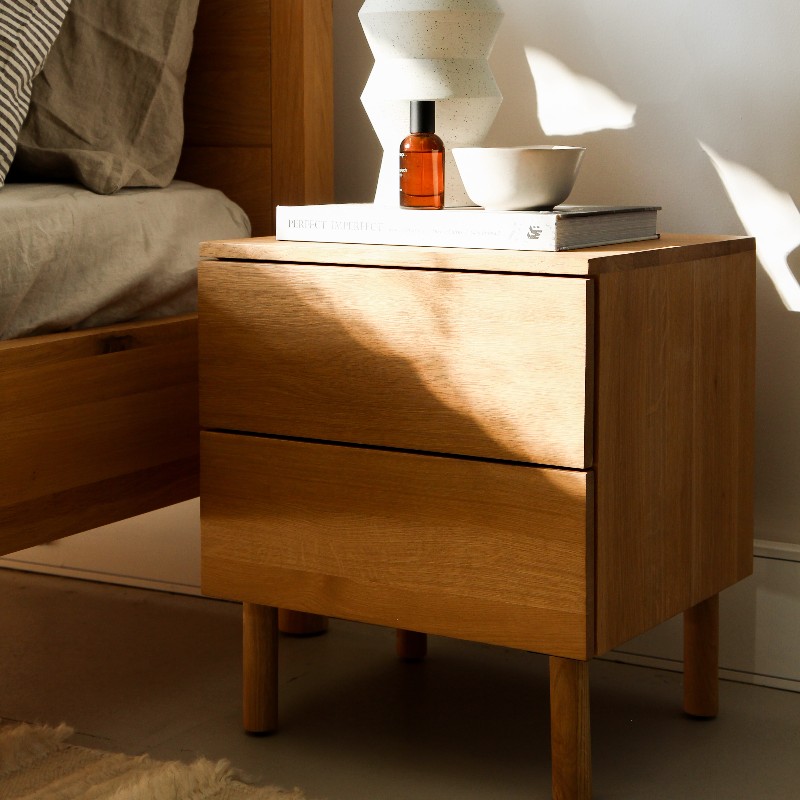 What to Look for in a nightstand set of 2
I measure the space before choosing a bedside table to ensure that it will fit perfectly. A properly sized nightstand will sit level with the top of the mattress, or as near to it as feasible. I usually align the back of the nightstand with the back of the bed, leaving a few inches between them for bedding. Then I chose a one-of-a-kind yet fashionable nightstand to make a statement in the room. The idea is for it to draw your attention and serve as a focal point.
Size
The size of the nightstand set of 2 should be determined by the amount of space available in the bedroom, as well as the room's overall aesthetics.
A bedroom bedside table on each side of the bed can provide more storage space while also creating a balanced aesthetic in a larger room. To ensure a clean, uncomplicated aesthetic, decorate the top of a nightstand with plants or an attractive vase.
A statement bedside table can assist create a focal point without dominating a space if the rest of the room is basic and natural. A curved component can add an architectural aspect that commands attention while also providing space for both ornamental and useful accessories.
Material
The material and color scheme of your high-quality bedding can also help you determine what style of the bedside table and nightstand decor is suitable for your room.
Sateen bedding in rich colors has a luxurious, modern look that works well with a simple bedside table that doesn't overpower a space. A basic, organic counterpoint to the rich cloth is provided by a solid-wood table with clear lines.
Where should a nightstand be placed?
Although it may seem self-evident where a nightstand set of 2 should be — right next to the bed, of course — the location can also influence the style of your nightstand.
Placing a simple wood nightstand on either side of a bed creates a symmetrical, balanced look that works well with a minimalist aesthetic. If you want to keep the look light and airy, pair the bedside table with open shelves. To complete the look, use natural ornaments and basic lighting on the top of a nightstand.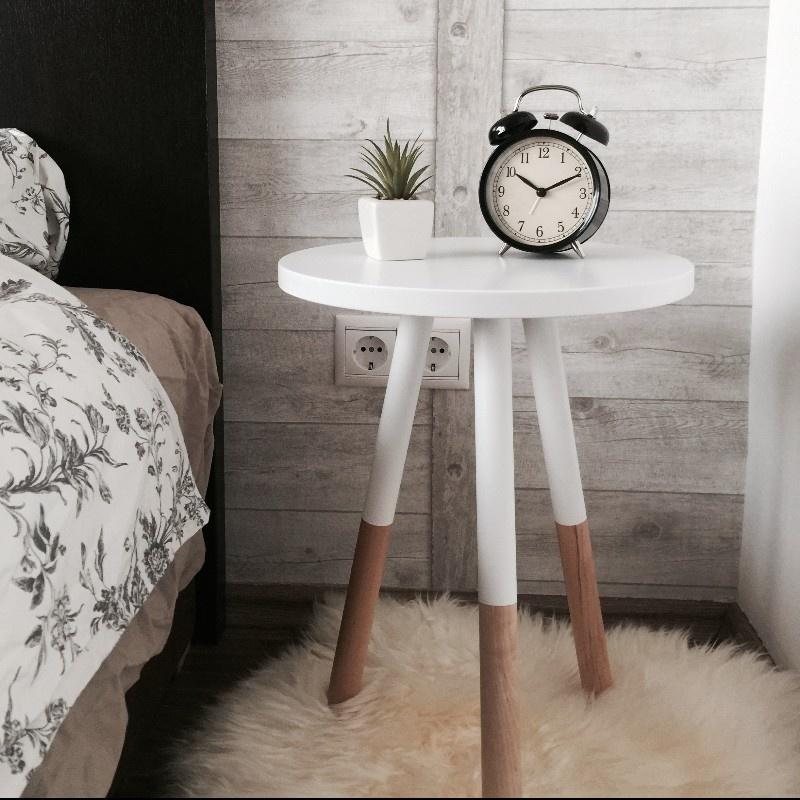 How to decorate your bedside table for bedroom
Lamps
A lamp is a terrific bedroom accent that adds personal lighting to your space while still being incredibly utilitarian. I begin by measuring once more. Measuring from the top surface of the nightstand to the top of your headboard is a smart approach to appropriately size light for your bedside table. The lamp's top should be close to the top of the headboard. I really like the Quail Lamp since it adds a pop of color to a bland area. In our store downstairs, it's probably one of my favorite nightstand lamps.
Element of nature
Adding a plant or flower to your bedroom is a simple way to bring the outdoors in. You don't have a green thumb? Artificial plants of high quality appear to be practically real (don't tell). Consider an alternative natural source of inspiration. A solid wood bowl or a granite candle holder can give your bedside table design a splash of color and visual appeal.
Elements of design
Nightstand accessories give your bedside table a distinctive touch. You can make them as dramatic or quirky as you want. A simple Scented Candle or Essential Oil Diffuser adds a warm, welcome touch to a room while also providing a pleasant smell. At the end of the day, a fashionable trinket dish can add a stylish flair while also serving as a catch-all for jewelry and watches.
Don't stop there, hanging mirrors over nightstands can assist give the appearance of space, making a room feel more open and breezy.
How to make a small nightstand set of 2 looks bigger
A queen-size bed or smaller requires a nightstand that is 24" wide or larger, whereas a king-size bed requires a bedside table that is 30" broad or larger. When arranging a small nightstand, we recommend reducing our rule of three to just two things or groupings of items. If you don't have a table light on your nightstand set of 2, you can style it with a picture frame and lean it against the wall. Consider lighting your environment with a wall sconce! Try a vase with some greenery in addition to your light or leaning art. The most important thing to remember is that you should use objects of various heights to create visual contrast.
Rules to remember when styling your bedside table
Stick to roughly four items and change their scales, textures, and patterns. Also, add some foliage or blossoms to keep things spicy. It's simply something that will make you smile every morning and evening. Trays will offer visual interest and will help to corral items such as tiny bowls, a water glass, and/or a bud vase.
On the bottom, large books, trays, and other decor items can be used. Simply keep your nightstand set neat, visually balanced, and purposeful in appearance. Also, keep clutter to a minimum.
You might be interested in:
The Best Guides To Arrange Your Vanity Table In 2022
The Best Nightstand Set of 2 Shopping Guide For Your Bedroom In 2022