Your home is your castle, whether it's your first home or you've lived there for 50 years, and your goal should be to fill it with home furniture fit for a queen. Experts always advise buying one high-quality item at a time to ensure it lasts a long time, rather than a roomful at Ikea. As 2022 Women's Day comes closer to you, it's time to shop some great home furniture suitable for women during the deal time.
Actually, Jaxpety has a variety of home furniture designed for women. This article will recommend some of them which are cost-effective and elegant for ladies. Don't miss the great 2022 Women's Day sale of home furniture.
Rustic Country 2-Drawer Wood Vanity Table
This upgraded rural-style dressing vanity table with 2 warm color tones creates glamorous charm for all contemporary homes and studios. Featuring 4 tapering solid wood legs in a splaying shape, the home furniture gift for girls and women showcases a stable standing with a mid-century appeal.
Consisting of premium density board and sturdy solid wood, the modern mirrored vanity table set is a high-quality, durable and functional home furniture addition to bedrooms, bathrooms, and dressing rooms for daily makeup.
2 full-sized drawers with front metal knobs provide spacious space to organize your jewelry and beauty supplies neatly in one place. The glossy white tabletop with a safe round edge design displays an elegant platform for cosmetics and decorations
A large moon-like mirror provides a high-definition reflection for convenient styling, which is also detachable to convert the makeup vanity into a writing/working desk. The matching stool comes with a removable fabric cover, a thick cushion, and an ergonomic height, making you sit comfortably for a longer time.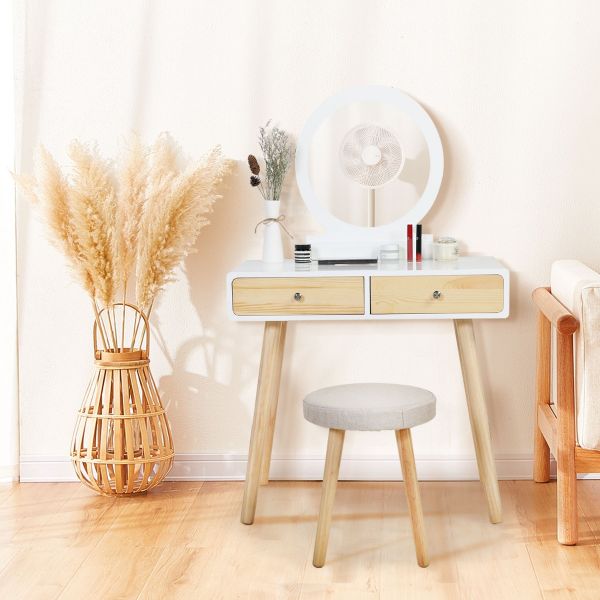 Black Mirrored Makeup Vanity Table Flip-Top Storage
This streamlined vanity table, influenced by Scandinavian design, adds a touch of modern simplicity to your bedroom or dorm. It has a sleek rectangular design that blends in well with existing decors. This low-profile vanity set is made of fine solid wood with a wear-resistant black/white finish and is built to last. The integrated panel legs provide a strong foundation for the entire home furniture construction (the seat supports up to 176 lbs).
2-Drawer Scandinavian Nightstand Set of 2
Inspired by modern Scandinavian style, this 24.8" H nightstand set crafted from premium wood with a glossy white finish is a functional and stylish addition whether sidled up beside your sofa or acting as a nightstand in the bedroom to keep your necessities organized within reach.
2 elegant drawers with wood knobs measured 16.4" L x 13.2" W x 3.9" D work smoothly on concealed cut-out rails, creating a place for separately storing daily necessities. The easy-to-clean top of this home furniture is ideal to showcase a lamp, artful accent, or framed family photo to add warmth.
4 long tapering solid wood legs (15.3" L) designed in a splaying shape provide stable support while enhancing aesthetics. Each wood leg is equipped with a nonslip foot mat to protect the floor from scratches. The 2-drawer storage home furniture with tool-free assembly can be installed instantly to expand the space function and make your life more convenient.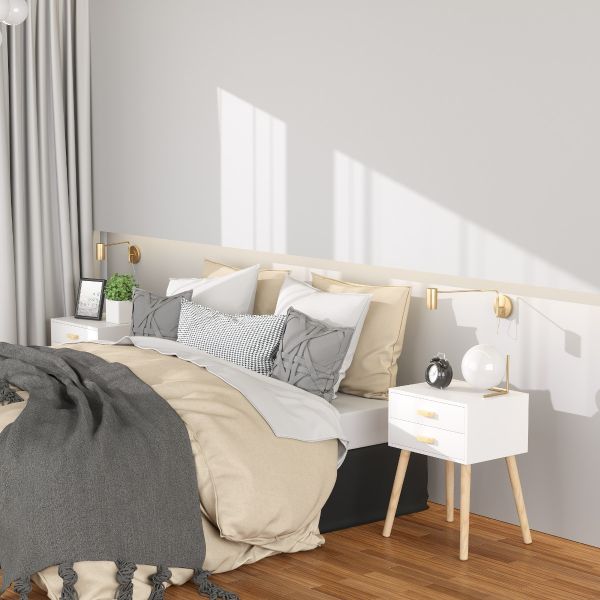 Dark-Champagne Glass Mirror Bedside Table
To create a deluxe bedroom, choose a low-profile and luxurious bedside cabinet organizer nightstand. If you have high standards for home décor and home furniture, this mirrored nightstand is a must-have. This two-tiered nightstand allows you to sort and store your belongings. Mobile phones, wallets, and other personal goods can be stored on the upper layer, while the below layer provides additional space to handle more and larger objects. Simple and functional, the round crystal handle. The elegant home furniture is more fashionable than a modern nightstand because of the cutting pattern of the surface, which is derived from Christianity. It features glass on all sides (except the rear) and can be used as a mirror. Smooth mirrored nightstands are easy to clean, waterproof, and oil-proof, so you don't have to worry about your furniture fading. The structure is more robust and rub-resistant thanks to thicker oak drawers with metal gliding rails. The high-quality sliding track is absolutely silent when being pushed or pulled and is extremely smooth to operate. Cleaning is possible since there is ample space between the bottom of the cabinet and the ground. It also comes already completed, so there's no need to worry about putting it together!
Wood Jewelry Necklace Wall Organizer W/Hooks & Shelf
This wall-mounted wooden jewelry organizer organizes your bracelets, necklaces, rings, earrings, and other ornaments in a sophisticated and beautiful style, keeping them from piling in an unorganized manner. This magnificent jewelry hanger features a sturdy wood frame with a wonderful rustic brown stain finish and rust-proof vintage decorations, making it an attractive addition to any bedroom, cloakroom, store, or dorm, giving long-lasting service with little maintenance. To hold your watches and bracelets, a beautiful bracelet rod supported by two large metal hooks may be effortlessly removed (lift one end rather than the whole rod). A 2.28-inch-wide thick shelf allows you more room to showcase your jewelry, perfumes, nail polishes, and other small items.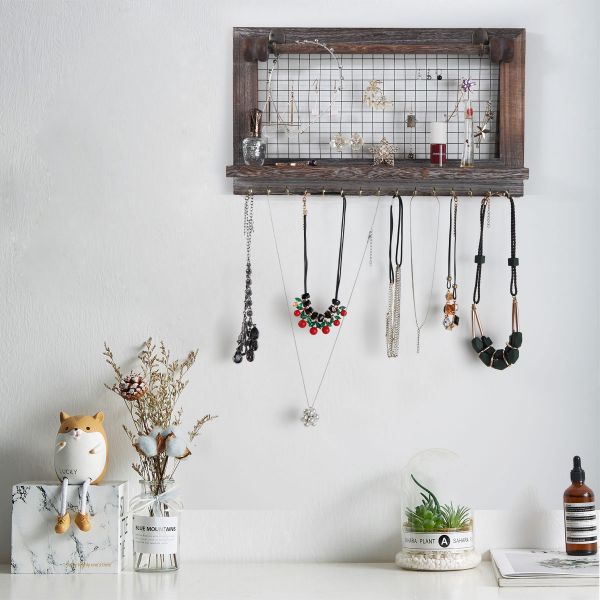 Wall Mirror Jewelry Armoire W/Locks & LED
This Jaxpety wall jewelry cabinet demands a seamless connection to the wall without causing any damage. A few screws and a simple tool are all that are required to make this Jaxpety wall jewelry cabinet a reality. For jewelry selection and storage, the cabinet's locking system is flexible and secure. The wood mirror and jewelry armoire offer more white aesthetic meaning to the wall, and it works well with monochrome or lively color schemes. And the stably mounted jewelry armoire will allow any type of opening behavior while preventing it from shaking or tumbling over.
There are 6 lines of shelves for earrings, 27 hooks for necklaces, 5 inner compartments, and 2 bottom drawers in this specialized cabinet for diverse jewelry. The luxury jewelry cabinet emerges from the felt-lined inside, which may arrange jewelry in order and stow them in great classification. And the cabinet's top LED light is constantly available to shine more attractiveness before deciding what to wear.
You might be interested in:
7 Amazing Tips On Styling Nightstand Set Of 2
The Best Vanity Table Size For Different Bedroom Shopping Guide