We're less than a week away from Valentine's Day, which means we're firmly in the last-minute shopping zone. Now is the time to order a present that will arrive by February 14th. Fortunately, we've compiled a number of resources to assist you in narrowing down your options. Jaxpety has made a list of furniture for your Valentine's Day gifts choices since Valentine's Day means different things to different individuals – some go all out, while others keep it simple.
Choosing furniture for the living room, bedroom, or kitchen as Valentine's Day gifts can actually be an excellent option. Maybe a chic dressing table or a superb nightstand will attract your loved one much and become his/her favorite gift on this romantic day.
Bedroom furniture for Valentine's Day
Remodeling your bedroom is exciting if you have a plan in mind. If you're not certain what to consider when choosing bedroom furniture, don't just start buying your favorite pieces. Planning out your space and collecting armoires and nightstands that fit your style and square footage are the most important facets to consider. You'll want tips for choosing the perfect bed too. Jaxpety Valentine's Day Sale offers you a great chance to shop great furniture for your bedroom and renovate it.
Cloud Gray Painting 2-Drawer Nightstand on Wood Stand
The set of 2 nightstands with 2 drawers works well to complement a room as they stand at 28 inches tall to cater to the usual demands.
The wide tabletop along with the two drawers accommodate daily essentials that require easy access while keeping clutter away.
Constructed of durable MDF and solid wood legs to ensure better stability, the two-drawer night end tables are lovely, solid, and nicely crafted which adds a sense of elegance.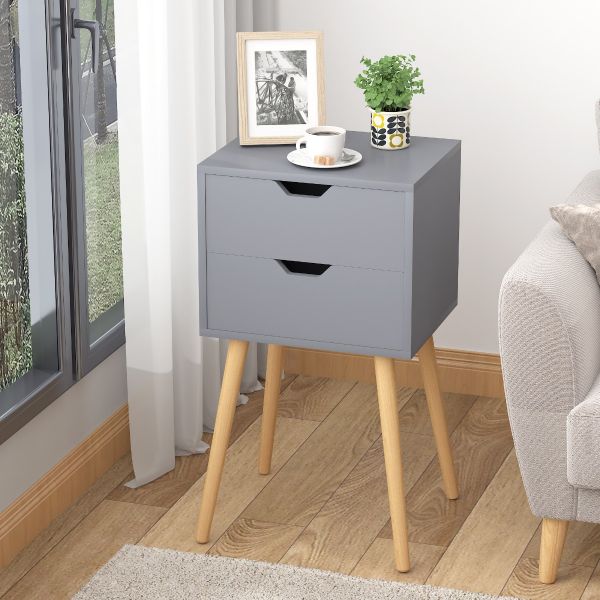 14" High Full-Size Metal Bed Frame W/Clips
Black Metal Full Size Bed Frame. The black metal slat bed frame serves as a perfect solution to support your mattress without a box spring. A full-size bed frame meets most of the bedding needs and complements any home layout.
High Profile Bed Frame. The high profile bed frame with a clearance of 14" from the floor supplies you sufficient under-bed storage space for tucking some unusual used items, such as suitcases, basketball, useless books, and more.
Sturdy Full Bed Frame. Constructed of the powder-coated metal pipe completely, the full-size bed frame with high quality provides years of great service. Built on 9 padded metal pipe feet, the bed frame stands stably without wobble. Moreover, 4 integrated bracing parts supported by the bedframe withstand the mattress sophisticatedly, which prevent noise and enhance the bedframe greatly.
Modern Glider Swivel Chair Folding Floor Chair
Whether to play games, read books, watch TV or relax, this versatile gaming floor chair is suitable for different occasions. It is ideal for the living room, home&office, gaming room, study room, etc.
The steel frame and sponge cushion material can not only provide comfort for you but also make the chair last a long time.
It is foldable for you to store after use. In addition, the compact and lightweight design are easy for you to move.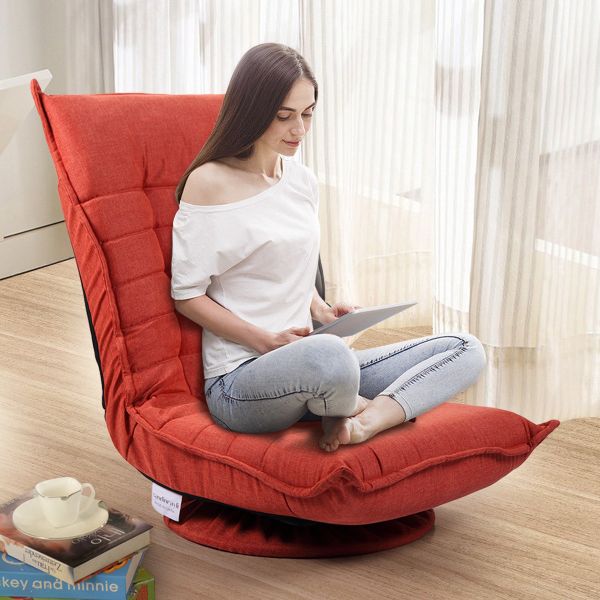 Living room furniture for Valentine's Day Sale
As the daily living space for you, shopping for suitable living room furniture with Valentine's day discounts is not bad. Choosing versatile and good-looking living room furniture for your loved one can express your love and care to him/her totally. Below is hot furniture for the living room in Jaxpety.
Espresso Extendable Coffee Table w/Lift Top, Open Cabinet
Extendable Lift Top Coffee Table. Extending coffee tabletop to transform into floating raised work surface, and it`s perfect to set up in the smaller living room, apartment and office. The hidden storage area is accessible when the top is lifted and provides wild storage space for supplies. And the top can be stabilized for any work on the tabletop, thanks to coffee table things in metal construction to control the top in a safe and adjustable way.
Espresso Looking Convertible Coffee Table. The composite metal construction and wood grain make a classic black coffee table, inspired by the current popular stylish lift-up table. And short splayed legs are pretty and cute to decorate the living room while providing safe pressure it can load when you work on the tabletop. The glossy appearance on black wood is special to show a modern instead of vintage wood look to your room, it`s safe from black color fading and easy to clean any stains, thanks to this wood coffee table.
Unfinished Coffee Table with Open Cabinet. Equipped with 2 front cabinets, these open cabinet on the coffee table is a unique style to cut any clutter and inspire people to decorate accent coffee table with creativity. It's a stylish and functional design that makes people display beauty to the living room from all directions.
Convertible Pull Out Sleeper Chair Flip Hide a Bed Chair
This JAXPETY sleeper chair is perfect for your living room, den, or dorm room where an unexpected guest or unexpected nap may surprise you.
This chair quickly and easily converts from a chair into a bed and back again which is perfect for a relaxing nap or unexpected guests.
Our friendly customer representatives will help you solve your problems timely, providing you with a better purchasing experience.
32" White Wood Wall Mounted Fold Down Desk
A wall-mounted folding table is an ultimate solution for whatsoever your domestic or commercial need to enhance the limited space. This simple white floating desk is a popular household item that is contemporary and multipurpose, going well with any modern decors. Made from the high-quality solid wood board with a scratch-resistant, sleek finish, the convertible folding computer desk is sturdy and durable with little maintenance.
Featuring multiple storage compartments and an extra-thick tabletop, this fold-out desk will keep all your necessaries in order
and provide a convenient platform to work, write, or eat, perfect for bedroom, living room, reading room, office, or another place you want.
Three strong metal hangers and a standing board ensure the folding desk is stable and safely mounted onto the wall.
When out of use, two hinged boards of the versatile desk can be closed by an elegant top lock for safety.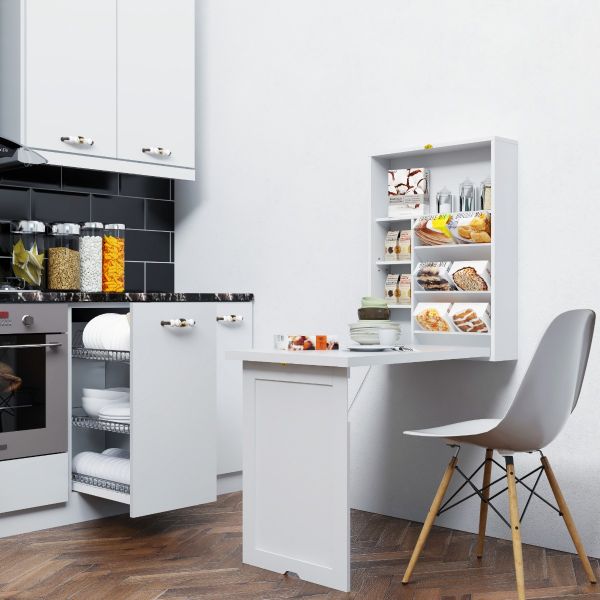 It's not late to receive Jaxpety furniture before Valentine's Day and give your loved one a perfect gift. Let him/her fancy your great gift idea, and save money on Jaxpety furniture for Valentine's Day sales. And it's free shipping on all orders in the US.