"We recently acquired a new bed, which I love, but I'm clueless on choosing nightstands and lights to coordinate," Sarah recently wrote in asking for design assistance in her master bedroom. I feel that the ones we have now just don't work - both in terms of color and size. Because there is a door to our bathroom on one side of the bed, I am concerned about utilizing bigger nightstands, but I believe we have enough wriggle area. "Please assist me in determining what to do with the space!"
Having difficulty choosing nightstands is a fairly prevalent theme in terms of bedroom design quandaries. It can be difficult to choose nightstands that complement your bed.
HOW TALL SHOULD A NIGHTSTAND BE?
Before we get into style, let's go over the fundamentals. Nightstands must do more than just look nice. They must function properly. The ideal height for a bedside table is even with the top of the mattress, plus or minus a couple of inches. In general, tall nightstands are preferable to short nightstands since they can be visually lost in a bedroom.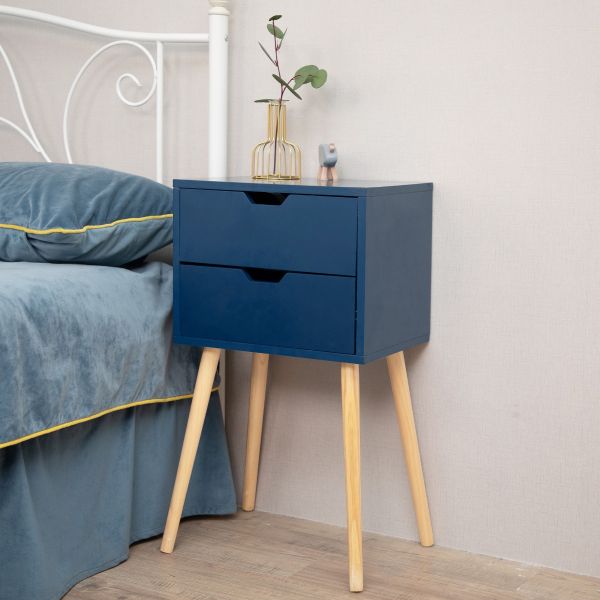 DO THEY HAVE TO MATCH?
Nightstands do not have to come in pairs. You can use two separate tables on either side of the bed. If you choose multiple styles, as a general rule, choose two that are around the same height and width and share at least one design element, such as material or color.
The bedside tables in this room are different widths, yet they are linked by height and color.
OPPOSITES ATTRACT
Nightstands do not have to match each other, nor do they have to match the bed. In reality, opposites attract. Mixing wood tones, lacquered and mirrored finishes with traditional wood beds, or distressed wood finishes with upholstered beds are all options. I can see why Sarah dislikes the grey nightstands with her new dark wood bed. They don't stand out much against the dark wood. Something with a little more contrast would most likely work better.
SARAH'S BEDSIDE OPTIONS
In Sarah's case, it all comes down to the overall style she wants to accomplish in her master bedroom. However, I believe that relocating the bed to the right near the bathroom doorway would greatly improve the room's balance. With the left nightstand against the wall and so much wall space left open on the right, the room feels a touch left-side heavy right now. Even scooting the bed 6 inches to the right will get the bed practically center on the wall while still allowing enough room to pass through to the bathroom. This will also allow her to bring in a couple of larger bedside tables. I believe that utilizing a matching pair of nightstands helps to visually deceive the eye into making things look more symmetrical whenever you have to situate a bed off center on a wall.
All three of the above options give the space a completely distinct vibe:
The mirrored nightstands give the room a more polished, luxurious appearance. While they are the least expensive of the three options, they will also require the greatest upkeep. Mirrored furniture is difficult to clean, but it is worth the extra effort because it is so attractive.
The campaign style tables have a wonderful breadth and would look great against the headboard wall. This modern design is a good contrast to the old, conventional wood bed. Their larger size would neatly balance out the heft of the bed.
My personal favorite appearance of the three is the old style trunk nightstands. I like the relaxed atmosphere they add to the space. While they are not significantly larger than the conventional nightstands, they are more solid in appearance and certainly more fascinating.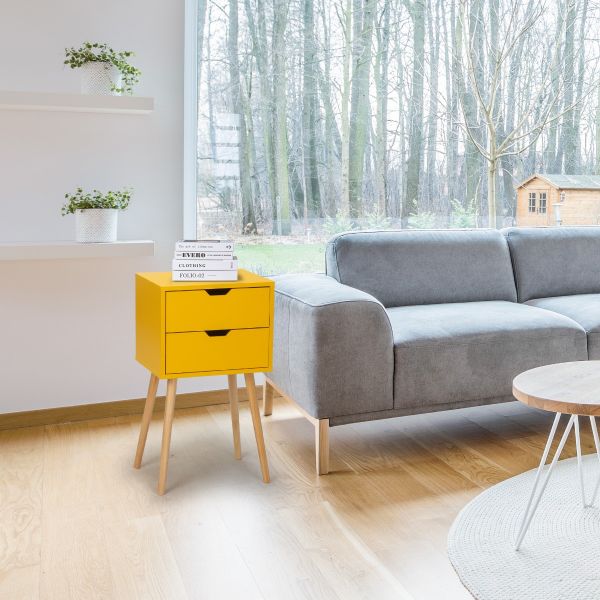 THE DIY OPTION
I believe that merely having things in your home that you actually adore is a good idea. However, I believe that making minor changes to items you don't love might help you fall in love with them. While Sarah dislikes the color of her current nightstands, there is a simple solution - paint! In terms of height, some vintage-style castors may be just what you need to add a couple of inches while also providing some very great character. Last but not least, a simple hardware upgrade could be a game changer. This is clearly the least priced alternative, and it is well worth investigating.
I adore the idea of a white nightstand with a few old brass accents. It has a simple, fresh, and classic vibe to it. Adding bedside table lamps will complete the intended aesthetic. Going all white allows Sarah to experiment with color. White lamps on white nightstands provide a more striking visual statement and truly lend weight to either side of the bed.
So, which option would you pick? Or would you suggest something completely different?