An accent chair is a piece of furniture that makes a bold statement. Accent chairs can help you develop a room's theme and show your individuality through their shape, fabric, and base. Consider what you want your accent chair to add to your decor using this guidance.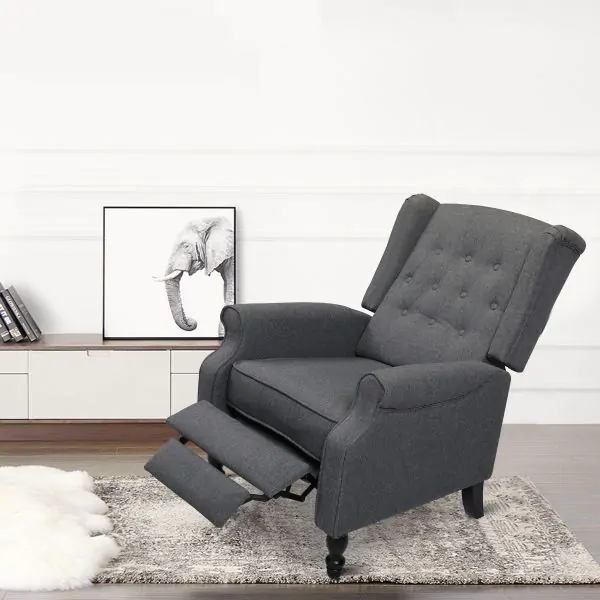 You Chair's Form Shall Follow Function
The design of your accent chair will have a huge impact on how comfortable it is, so think about your seating situation, who will be sitting in it, and for how long.
A stylish shape, such as that found on a butterfly or Wishbone chair, is ideal for creating a distinctive profile. Think high-back chairs, deep seats, and soft stuffing for comfy lounging and extended chats. For example, a well-padded barrel, tub, or club chair would be great for unwinding.
Chairs Shall Replicate The Rest Of Your Decor
Consider the shapes of your furniture and decor while looking for the perfect accent chair. To keep things from feeling too harsh in a minimalist area, consider an accent chair with an organic, flowing design. A sweeping wingback chair, for example, can provide beautiful curves to a harsh, masculine space.
A bolder, sharper frame in metallics, such as that seen in a contemporary accent chair, can, on the other hand, modernize the look and feel of a softer environment. If you want to keep your current look, choose a chair that emphasizes the angles in your furniture and decor.
Enhance Your Color Scheme
Decide whether your space needs a powerful flash of energy or some calming hues before picking a color for your accent chair. You can also create a color scheme by matching the details in artwork, throw pillows, a rug, or other decor to your chair. An accent chair, as one of the larger pieces of furniture you'll possess, will assist set the color palette.
You may count on a raw texture or startling shape to keep things new when you choose an accent chair in greys, whites, browns, or blacks. It's easier to move your accent chair across rooms if you stick to solid, neutral textiles.
If you're going to put your accent chair in front of a jewel-toned wall or dramatic wallpaper, use a neutral hue so your design elements don't clash. Blush or navy, on the other hand, are modest enough to go with most color schemes while still offering a pop of color.
Chair Pattern Should Be Used For A Specific Reason
Take visual inventory once again while choosing a pattern for your accent chair. When placed next to your other graphic pieces, will a playful pattern brighten things up or cause chaos? A beautiful damask or floral print, for example, might liven up a monochromatic or neutral area, but it will look cluttered in a room with patterned furniture or bedding.
If you wish to use numerous patterns or prints in the same space, make sure the scales are different. For more information, see our guide to Pattern Mixing. Start with chairs that have great shapes and reupholster the fabrics as they begin to wear or your tastes change by tossing a neutral throw over a boldly patterned chair to pare down the design or start with chairs that have great shapes and reupholster the fabrics as they begin to wear or your tastes change by tossing a neutral throw over a boldly patterned chair to pare down the design.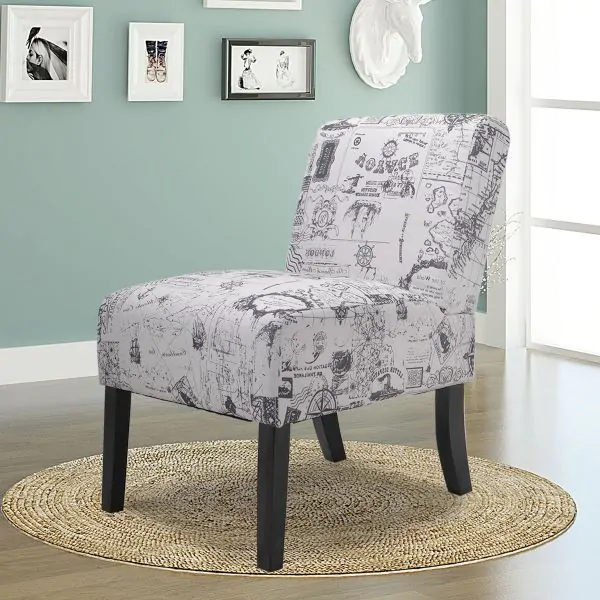 Strive Towards Equilibrium
The size of the accent chair you choose should be dictated by the function of the chair. Choose something basic and slender if it's only a decorative hall element. Dining chairs might be useful in this situation. For example, the lightweight Windsor is the perfect chair for a kitchen corner or near to a cabinet or fireplace. It gives a stylised vignette more functionality.
If your chairs will be used as supplementary sitting at the dinner table or in a warm living room, they should be more substantial. An accent chair should always have enough weight to stand on its own, but not so much that it dominates your area or dwarfs your other furnishings. You can play with dimension as long as your sitting suits the room's general aesthetic.
Chair Leaning Into Your Design
Begin by determining the layout of the room, and then determine how many accent chairs you'll require. To encourage interaction and easy mobility across the space, limit seating to blocks. Between your chair and any other furniture, such as a bench, end table, coffee table, or stool, there should be at least 18 inches of walkway.
You don't want your sofa to be too high off the ground compared to your accent chair. For the optimal visual and conversational flow, all of your chairs should be level. Your accent chair should be within 4 inches of your other seating from floor to cushion.
Match The Chair Style To The Environment
Look to the raw parts of your decor for aesthetic clues, such as the bases of your lamps or the frames of your mirrors. Do they have a simple design or are they ornately detailed? Are your wall art and décor elements wacky or refined? These characteristics can help you decide whether you want a dramatic or relaxed accent chair.
A rich traditional décor might benefit from an accent chair with scrolled arms and clawed feet, while downhome rustic or farmhouse designs would benefit from nail heads and cow print. A serious residence can invest in a French Bergere chair with classic quilted upholstery that evokes White House elegance. A swing chair would be a better fit for the funky design.
You might be interested in:
The Best Guide Of Nightstand You Shall Know In 2022
How To Maintain Wooden Furniture In A Proper Way